While we are again getting ready to rumble, we would like to introduce last year's big winner, Escapify (nee SunSeekr). They had an interesting idea and a strong final pitch that should serve as a good example for all of you on stage this Sunday: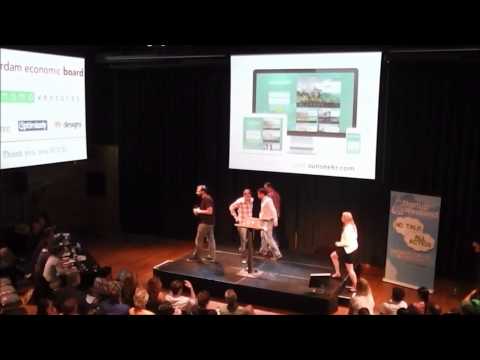 One year later, we followed up with chief instigator Justin Whalen about where this project has lead them in the mean time.
Tell us about your StartUp Weekend company/product.
Our idea was simple: to build a mobile website that finds you the sunniest travel destinations at the lowest price. It was basically a mash-up between hi-resolution weather data and real-time travel inventory api's rolled up into a mobile interface. In 48 hours, we were able to build a prototype in time for our final pitch to the judges. And guess what? We took home first place! These were the early beginnings of escapify.com!
What's the name and what does it do? How has your company/product changed since Startup Weekend?
Previously sunseekr.com, we are now www.escapify.com. We have evolved the original concept to more broadly help people find the best deals on exciting weekend travel and activities – a current gap in the travel market. Staying true to our roots, you will still be able to find deals on the sunniest weekend destinations at escapify.com, but we have added many more exciting features and categories to broaden our user appeal.
What milestones or successes have you had since the weekend?
Since last year, we have been spending time on research and development while keeping a close eye on travel industry trends. We have also taken on two new team members: Lauren Valbert, who was a mentor at last year's Startup Weekend, is helping with customer validation and crafting our marketing plan and Cezar Nica, who is managing our front-end development. Next to this we have signed agreements with world-leading travel providers who will be supplying us with quality travel inventory for our users.
What has been the biggest challenge since Start up Weekend?
We started out with a very large team and over time our team shrank down to two core members for a variety of reasons. It was therefore difficult to maintain focus and progress as our team was evolving constantly. Once we were ended up with our core team, we were able to bounce back and focus on making the product we wanted to make!
What does the future have in store for you and your company?
We are very excited about our progress and are coming closer to a launch! We also have had some investor interest which is pretty cool.
What was the best part about Startup Weekend for you and your company?
Startup Weekend was the ultimate form of validation! Of course winning first prize was awesome but more valuable was the weekend itself, being surrounded by like-minded peers and mentors to help develop, test and validate concepts in such a short period of time. Even if we didn't win, we still would have benefited greatly from the lessons learned and invaluable contacts and friendships forged during the weekend!
If you could rewind and do your Startup Weekend over again, is there anything you would do differently?
I would have taken it easier on the free beer :S
Give one piece of advice for people (thinking of) attending their first Startup Weekend?
Join Startup Weekend! It's worth it in so many ways! Since you only have a weekend, do your best to network and learn as much as possible.
What's your website and how can our readers contact you?
Our website is www.escapify.com and you can also find us at www.facebook.com/escapify. If you want to get in touch directly, you can email me at justinmwhalen@gmail.com. We are looking for beta testers so please sign up at: signup.escapify.com if you want to take part or if you simply want to stay up to date on our progress.
Are you hiring?
We are looking for a new team member based in Amsterdam who has (preferably) experience in the travel industry and is able to produce and manage quality travel content. If interested, you can reach me at justinmwhalen@gmail.com. Thanks!